Comfortable and nice activity especially for children is pony riding and care. Shetland pony Ali is kind and likes brushing and caring. In addition to caring children can also saddle Ali-pony before riding. This is a great way to get to know Ali, after which it is more natural to ride with him.
Riding with Ali is nice and smooth. Together with farm adult children will learn how to put a saddle and bridle on Ali and check that the hooves are clean. After the ride children can feed Ali and take memorable pictures of it.
For this activity, kids and you as well, need comfortable shoes. You can rent a helmet for riding from our farm.
Duration of this activity is total of 1.5h with 4 children in a group. The activity is suitable for children from 6 to 12 years of age, smaller children can participate with the parent or accompanying adult.
Activity is available on Tuesdays and Fridays from 11am to 1pm and 2pm to 4pm. Bookings for the other days, call +358 45 885 5520 or email henna.hiidenniemi@gmail.com.
The group size is 1-4 persons, total price for 4 participants is 100 €, the price for one is 25 €.
PRICING:
25€/participant, maximum group size is 4 people.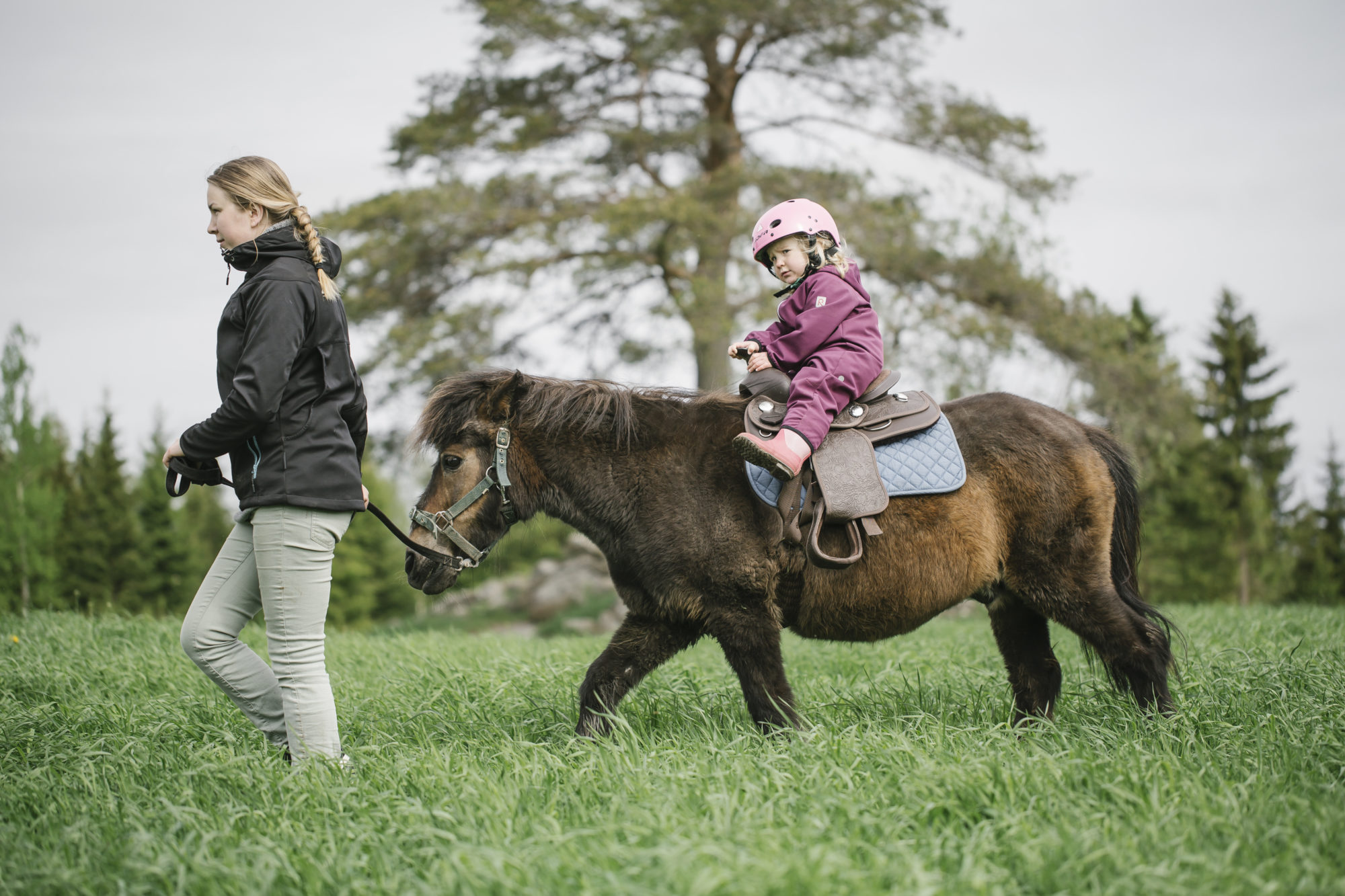 Nelli horse at the animal farm introduces our guests to the magic of sleigh rides. Nelli is an experienced and intelligent sleigh rider and you can safely watch the farm scenery during the ride.
Sleigh ride in winter time is fun activity for the whole family or even for adults. Before the ride, you'll also see how Nelli horse is equipped. You can experience the ride from the riders view by sitting next to her. Sleigh ride will be an open activity for visitors in winter 2020.
Sleigh ride goes through diverse landscapes, meadows and the peace of the forest. Get the most out of sleigh rides, enjoy the beauty of winter and the tranquility of nature. Look around and listen, you may even hear an owl over the sleigh.
During the ride, we stop for a coffee or hot chocolate at the break. There is also some fun activity for the children at the break.
Jump on a sled, enjoy sleigh rides and then explore the farm and nature around it. The sleigh can accommodate 5 people at a time. Duration of the ride is 60 minutes.
There are blankets and reindeer skins in the sleigh, but please prepare with warm clothes in freezing temperatures. The price of the sride is 150 € / group (5 person) and the sleigh ride can be booked in spring 2020.
NOTE – BOOKINGS FROM ONLINE SHOP! If the weather conditions prevent the sleigh ride, we´ll book new time for the ride instead if refunding money
Price: 150 € / group of 3-5 people. Sleigh ride for 2 persons, duration 60 min, price 100 €. Price includes coffee / hot chocolate and picnic lunch.
As a group activity, ask for an offer and availability separately. See more information of Nelli horse below.
PRICING:
| | |
| --- | --- |
| 3-5 people /60 minutes | 150€ |
| 2 people /60 minutes (incl. coffee/hot chocolate & snacks) | 100€ |